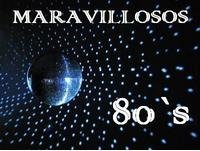 Subcategory: World's musics and others
Creation date: 16/12/2011
Description: Solo quien ha vivido esta epoca de la historia de la musica ... o a quien le ha llegado sabe lo que significa \"ESTAR ENAMORADO DE LOS 80`s\" Os animo a buscar audios relacioanados con esta maravillosa decada y dejarlos aqui, porque seguramente aqui seran tratados con el respeto que merecen. More
Remember:
The proposed audios that fail to support disappear in 15 days this listing.
Each audio also counts as a vote. You have three votes per day.
Every day, the most voted audio of this section will go Top Rated Audios.
Group users
Propose audios to the group
Share in this group the audios that you likeWorld's musics and others.